The all-time favorite dish of Indians all across the world is undoubtedly none other than the delicious Biryani. In this blog we bring you the different types of Biryanis that Bombay Kitchen offers.
Biryani is regarded as a single dish that is enough to satisfy your cravings and make you full in no time. However, the  history of Biryani is very interesting and if you are unaware of it, then let us tell you a little story about how this mouthwatering delicacy came into existence. That will surely help you understand its value as a single dish that does not require an accompaniment of other dishes at all.
In order to narrate the story of Biryani, the most popular and classic dish of Indian cuisine, we must go centuries back during the time of Mughal reign. It is said that there was one time when the empress Mumtaz paid a visit to the Mughal army camp and realized that the soldiers seemed malnourished due to lack of nutritious food and day long physical exertion at the battlefields. This very sight made her come up with an idea that went on to become a significant part of the culinary side of Indian culture.
To ensure that the army personnel are well fed and in good health, Mumtaz asked the chef to prepare a single dish comprising the goodness of meat and rice together. Therefore, the traditional Biryani came into existence.
Over the years, the preparation of Biryani has evolved in several ways through Indian cooking and precisely, all the variants have been loved and accepted by almost every Indian worldwide
This blog brings you the different variants of this one and only single dish, Biryani, offered to you by Bombay Kitchen. Read on to know more about these different types of this delicious meat and rice dish.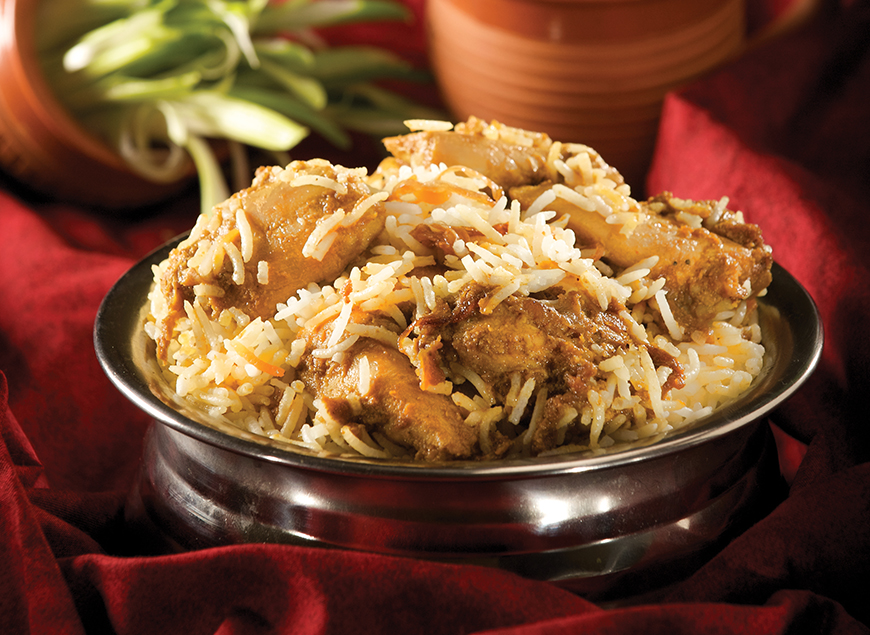 The most-loved Biryani all across the world is none other than the absolutely mouthwatering Chicken Biryani. It is one single dish that you will find almost every Indian enjoying to the fullest. The aroma and flavor of the traditional spices along with the delectable meat, makes this dish a wholesome and fulfilling delicacy.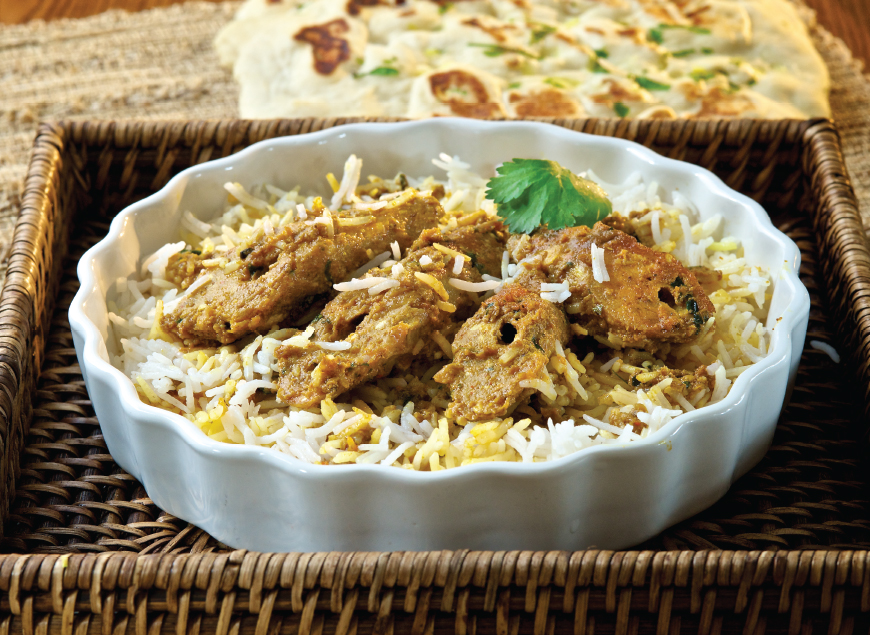 Another variant of the age-old traditional Chicken Biryani brought to you by Bombay Kitchen is the lip smacking Chicken Kabab Biryani. As the name suggests, this delightful dish consists of Chicken Kabab and the unique flavor of the meat and the delicious rice makes this delight a delicacy for you to cherish for long after you have had it once.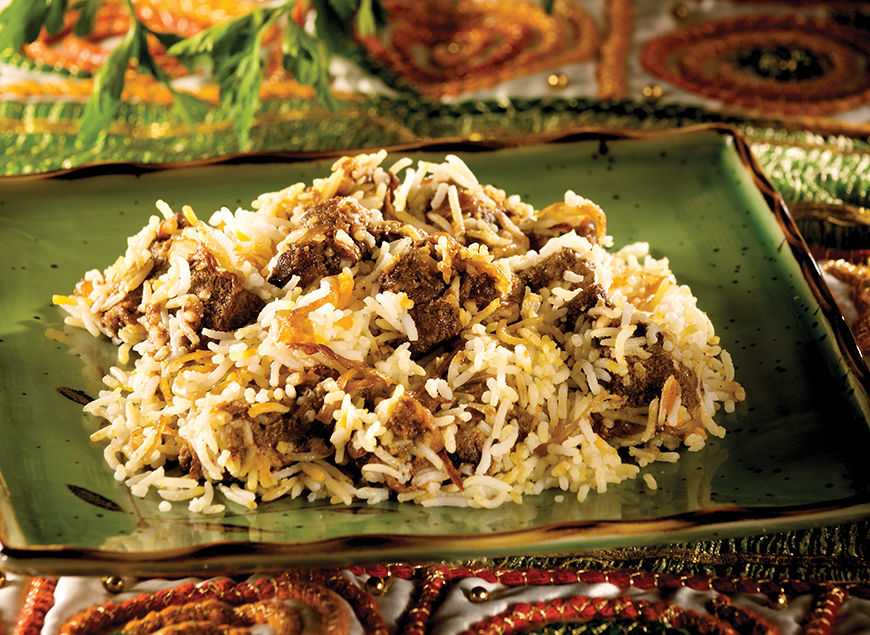 When you bring together the awesomeness of long grain Basmati rice and tender, flavorful, and delectable Lamb meat, all you get is the most wholesome and delicious meal known as the very special Lamb Biryani. The juicy meat and the aromatic flavors of the rice together make it the most delicious food that one can ever have. If you or your loved ones are fond of Lamb meat, Lamb Biryani is the dish that is surely going to transport you to a heavenly world of culinary satisfaction.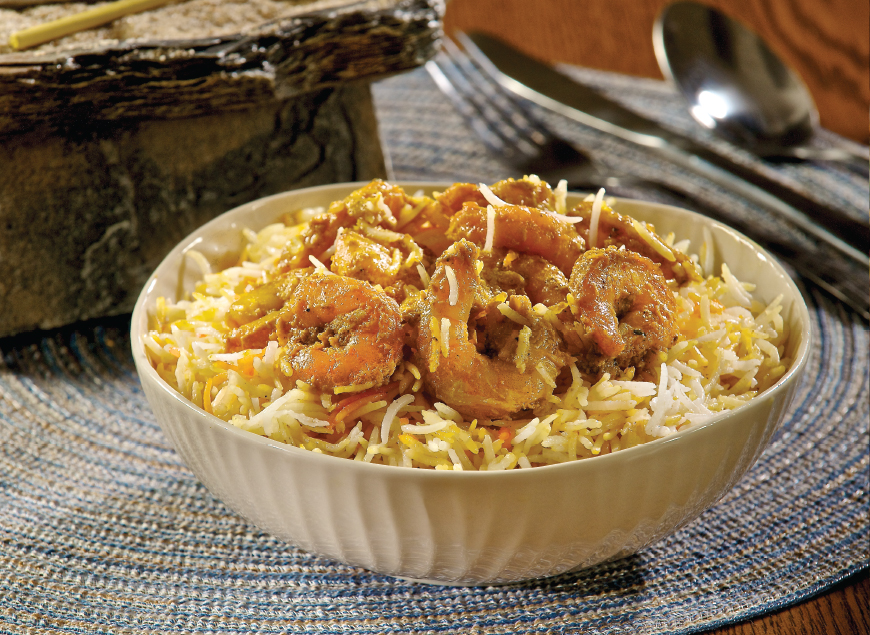 Now that you know about the meaty variants of Biryani, let us tell you about another type of this dish that we at Bombay Kitchen bring you. It might strike a question in your mind because you have probably not heard of the same before, but we offer you a special type of Biryani in the form of Shrimp Biryani. Sounds surprising?
Well, it is for those times when you wish to add a twist to the feast of special occasions but cannot fix anything other than serving dishes that are commonly had. So during such times, when you serve Biryani, it definitely adds a touch of happiness to your feast and your guests get even more surprised when they get to experience the seafood variant of this dish. No wonder the unique flavor of this delicacy is going to make your guests admit that it is perhaps the yummiest dish that they've ever tasted.
The different types of Biryanis mentioned above are easily available at a nearby grocery store or Bombay Kitchen outlet. So, you can visit and get your favorites from these places. However,if going out is a problem for you, you can place your order online, as we are available in Uber Eats, DoorDash, and GrubHub, and we will ensure that the products reach your doorstep anywhere across the nation.