The delicious tastes and aromatic flavors of authentic Indian chicken dishes are hard to resist. The wide range of delicacies that Indian cuisine offers makes it hard to choose a few of them. So in this blog, we bring you some of the most traditional Indian chicken dishes that Bombay Kitchen offers you.
India's rich cultural and traditional culinary heritage brings out the nation's unity in diversity. If you are also fond of the delicacies offered by Indian cuisine, you are indeed aware that this cuisine boasts the perfect amalgamation of rich, traditional flavors and intensely aromatic spices. The primarily used meat in Indian cuisine is chicken, and a wide range of varieties are available for you to try. 
When it comes to Indian chicken dishes, the cuisine never fails to make us go weak in the knees with the various delicacies that range from curries with spicy flavors to delectably tender kababs. However your taste palate, whether you prefer your dishes mild or want the fiery spicy taste, there is always something amongst the authentic Indian chicken dishes that will satisfy your taste buds to the core. 
In this blog, we bring you some of the finest and the most traditional Chicken dishes we at Bombay Kitchen offer you. Read about them and include them in the menu for your next Indian dinner party. 
When you wonder which Indian appetizer you can serve to your guests at a gathering, the first thought that comes to mind is none other than delectably delicious kababs. While kababs are an essential section of Indian cuisine, there are different options that you can choose from, and that makes these lip-smacking appetizers so much in demand. Chicken Chapli Kabab is one of those variants loved the most by Indians worldwide. It is a delightful appetizer that tickles your taste buds with its aromatic, spicy taste.
A wholesome chicken delicacy of Indian cuisine that originated in the tropical regions of India, Chicken Vindaloo is a heartwarming dish, to say the least. The flavors of the traditional spices ooze out of marinated boneless chicken pieces and diced potatoes. When you serve this mouthwatering delicacy with rice or naan, the experience is unimaginably heavenly. 
One of the most traditional delights of the rich culinary heritage of India, Chicken Keema is a dish that upholds the pride of Indian cuisine. The finely-minced chicken and green peas are cooked with the traditional, intensely flavorful desi spices. It is one of those Indian Chicken dishes that is dry in nature, so you get the perfect aroma and taste of the ground spices that go into its preparation. Chicken Keema is best enjoyed when you serve it with flavorful naans such as Coriander Naan, Garlic Naan, or parathas and chapati.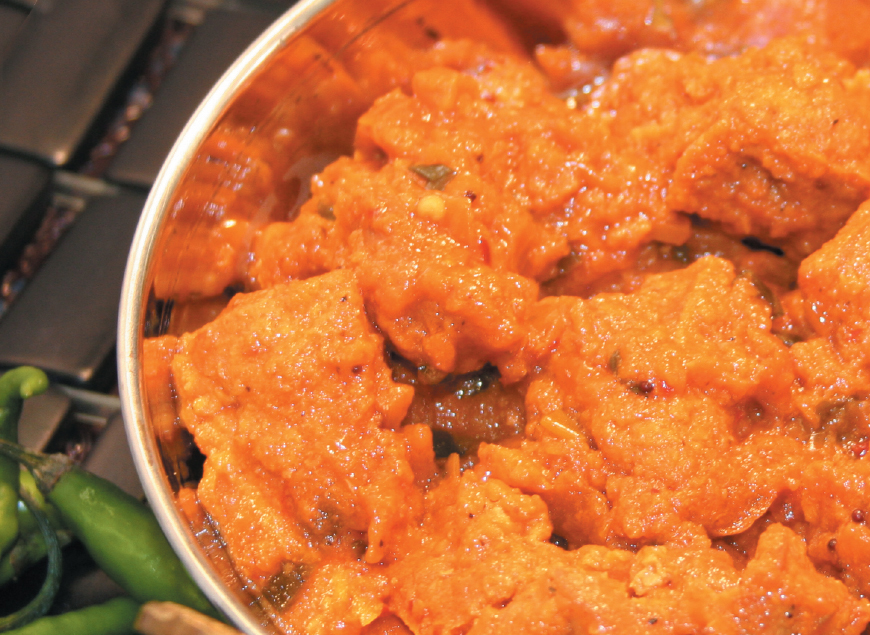 The blend of Chinese and Indian cuisine offers an experience no food lover should miss. But how you get that experience is when we offer you one of our finest Indo-Chinese delights in the form of Chicken 65. The seasoned boneless chicken is cooked in a zesty gravy made with spices that add a touch of heavenly flavorfulness to this delight. Enjoy this mouthwatering delicacy with your friends and loved ones, and lose yourself in a world of flavorful goodness.
The authentic Indian chicken dishes mentioned above are all available in the product range of Bombay Kitchen. Moreover, we offer you these delicacies in ready-to-serve versions, so there is no hassle involved in cooking. All you have to do is visit a grocery store or Bombay Kitchen outlet near you and grab the dishes you wish to try. Bring them home, heat them, and enjoy the flavors of Indian cuisine with your friends, family, and loved ones.