Navratri is one of the most celebrated Hindu festivals. Though this festival is known for its vibrance and limitless revelry, delicious food takes center stage during this time. In this blog, we bring some lip-smacking Navratri snacks from Bombay Kitchen's product range. You and your guests will surely enjoy these namkeens during the celebrations!
The auspicious festival of Navratri is almost here, and you are undoubtedly gearing up for the fun-filled celebrations, joyful gatherings of friends and loved ones, and the high spirits and enthusiasm of those special Garba nights. For those unaware of what Garba means, it is a traditional Gujarati dance form performed in honor of Goddess Durga throughout the nine nights of Navratri. It requires high energy and stamina, so we must keep ourselves well-hydrated by drinking lots of water, having fresh fruits, and consuming good food during the festival to enjoy the Garba. 
However, besides the uplifting spirit of Garba, there's more to Navratri festivities, such as the Dandiya nights, and just like Garba, Dandiya is another dance form that is performed using sticks. The only difference between the two dance forms is that Garba can have several people dancing in a circle together, whereas Dandiya requires an even number of people. But both of these dances are traditionally significant to Navratri. 
So, traditional food is essential when you wish to perform these dances or have your homes filled with friends, family members, and loved ones who get together to indulge in the celebrations. Some lip-smacking desi Navratri snacks elevate the vibes of the festivities as these crunchy namkeens add the spice of joy to the festive gatherings by keeping you filled and satisfied. This way, you stay high on energy, get ready to dance, and enjoy with utmost happiness. 
Read this blog to know about some of Bombay Kitchen's special and authentic desi Navratri snacks. Choose your favorites and stock up on them for a flavorful Navratri celebration!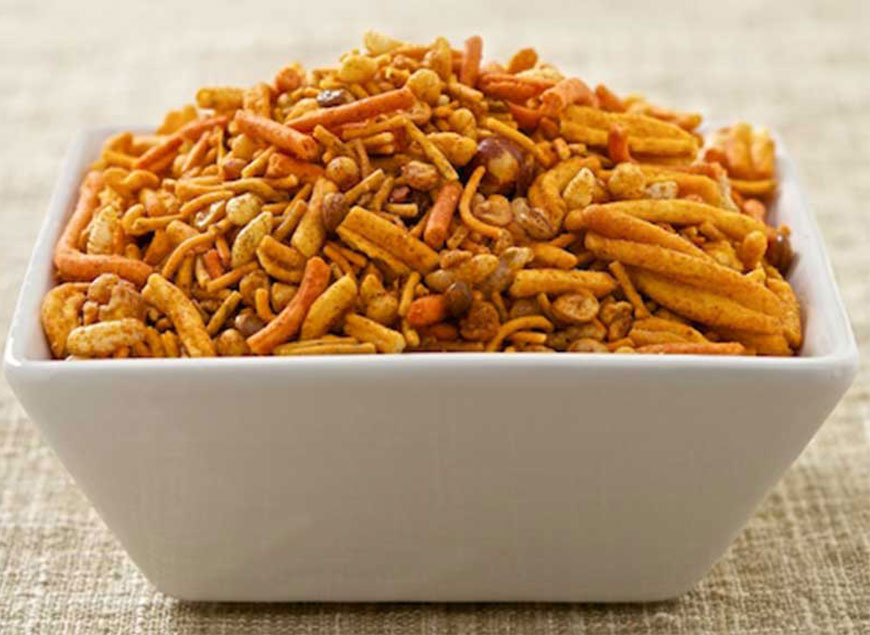 The tantalizing flavors of Bombay Kitchen's Extra Hot Mix never fail to elevate the joy of Navratri celebrations. It is a snack made of Indian fried spicy mix, comprising ingredients such as chickpeas, raisins, lentils, puffed rice, peanuts, and many more. It is one of the perfect Navratri snacks to indulge in when you crave spicy namkeens and keep yourself full during Garba or Dandiya.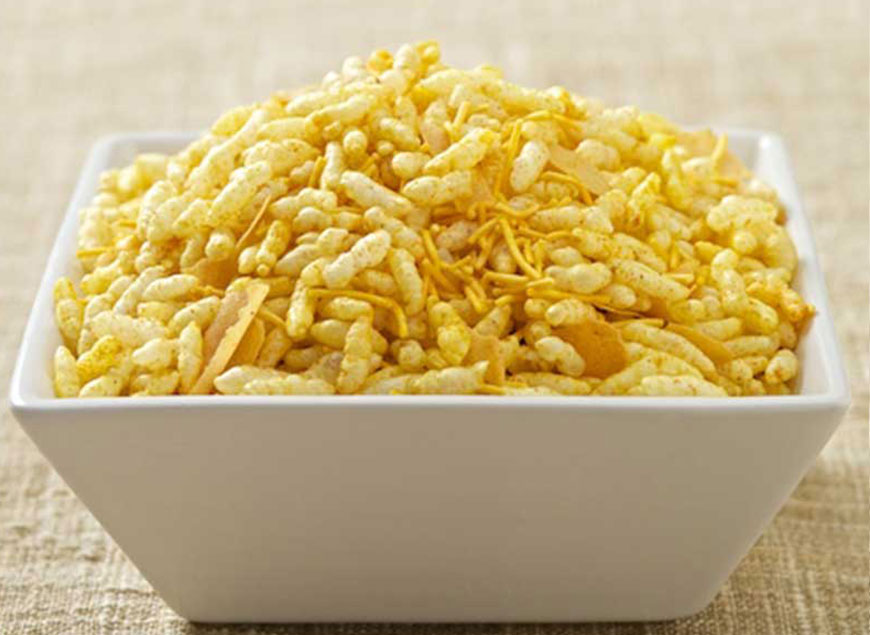 The perfect mix of fried Indian noodle, puffed rice, and some traditional spices gives you the delicious Indian street snack, Bhel Mix. This snack is somewhat light and keeps you filled but also physically active and energized enough to get set with your moves during the Navratri celebrations.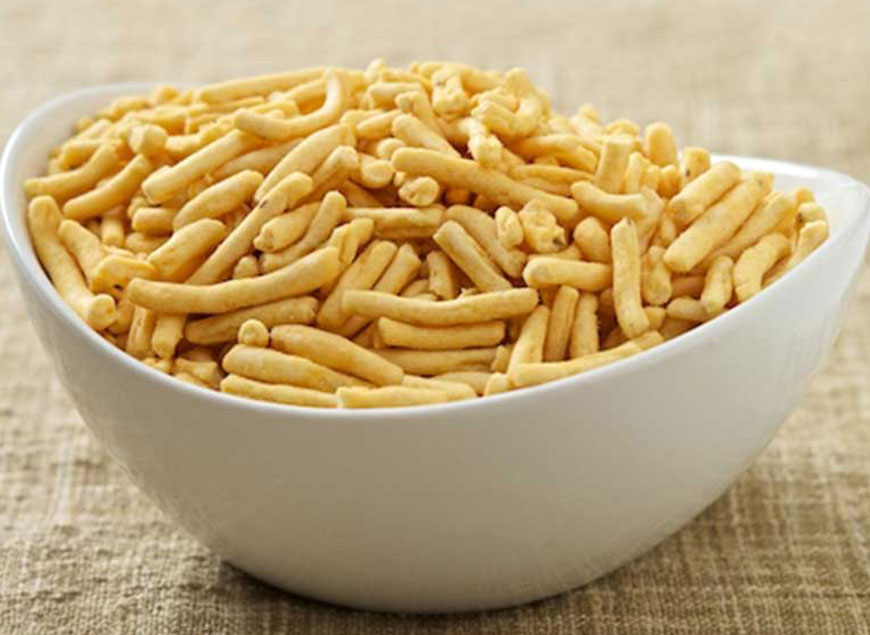 If munching on crunchy snacks is your way of enjoying Navratri, then Bahvnagari Gathia is where your search ends. This snack is a Gujarati specialty made of chickpea flour strands deep-fried with spices that bring authentic flavors. It is fluffy and crispy at the same time, and you will keep on munching it with utmost happiness throughout the nights of dance and revelry during Navratri.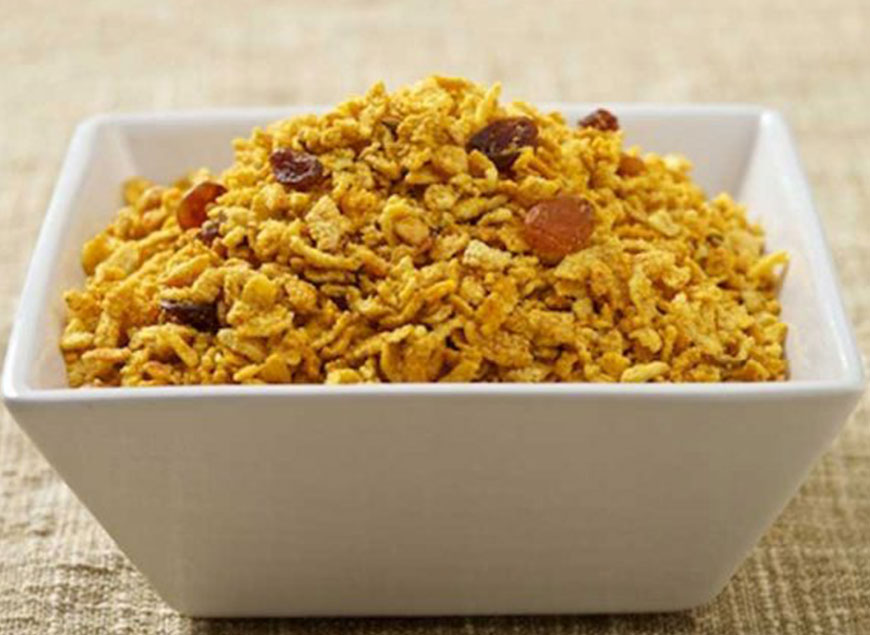 Bombay Kitchen's authentic Chewda Mix is a snack that has a low-fat content and is packed with energizing ingredients. It is prepared with rice flakes and split-gram peas and consists of cashews, peanuts, golden raisins, and more. The taste of this snack is heavenly, to say the least, and once you start, it is tough to resist the temptation of asking for more of it.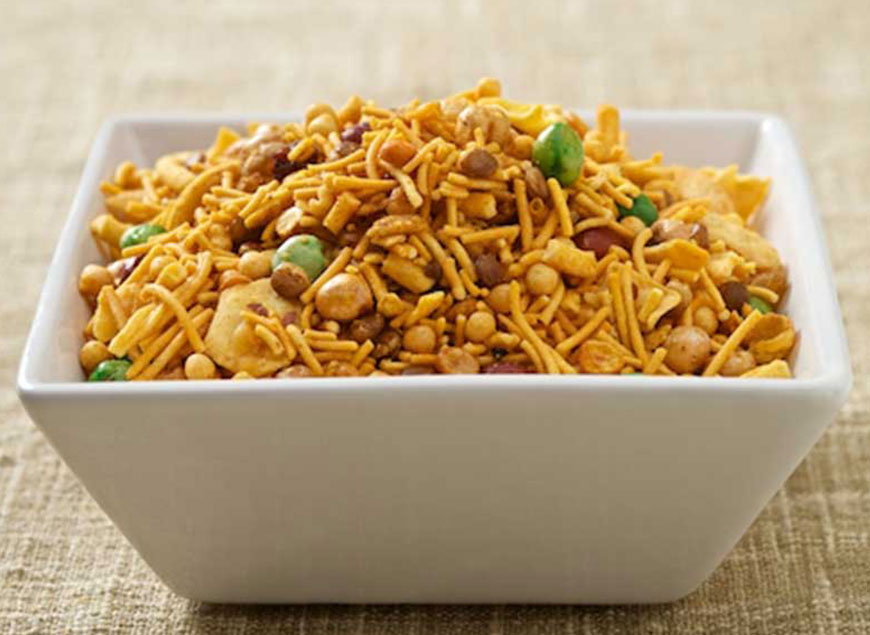 Do you enjoy tangy flavors while munching on your favorite snacks? If so, try out the lip-smacking Bombay Mix from our range of authentic desi namkeens. We assure you that this might become one of your go-to Navratri snacks, and the irresistible taste and flavors of the crunchy mix of peanuts and traditional spices will instantly make you fall in love with it.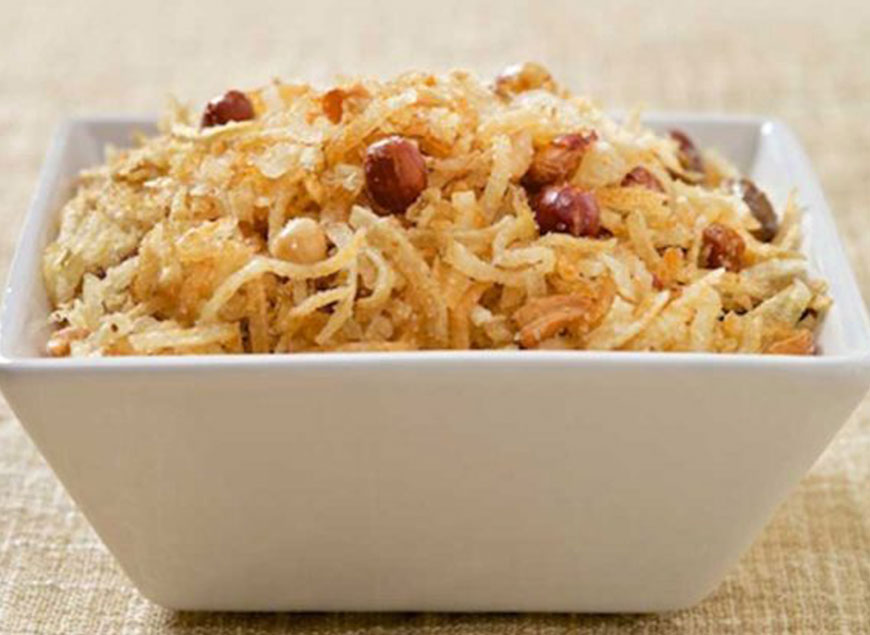 As we all know, potato chips are an essential part of celebrating festivals with friends and family. So as we are talking about Navratri snacks, we bring you our very own Farari Chevda, which boasts a slight twist with its heavenly mixture of potato chips, peanuts, cashews, nuts, and different spices. The soul-satisfying crunch and the flavorful taste make it the perfect namkeen to indulge in while you dance your heart away with friends and loved ones during the Navratri nights. 
The above-mentioned authentic desi namkeens are the perfect Navratri snacks that Bombay Kitchen offers. You can easily shop for them from a nearby grocery store or Bombay Kitchen outlet and serve them to your friends, family, and loved ones during Navratri celebrations. Enjoy the mouthwatering taste and flavors together, and dance away this Navratri with utmost excitement and enthusiasm.