Samosas have always been the favorite street food for Indians. It is a treat to desi food lovers on almost every occasion. Read this blog to know some more about samosas and the different kinds of samosas that Bombay Kitchen offers.
In almost every Indian household worldwide, samosa is a commonly enjoyed snack. Be it a usual evening or a special occasion involving a friendly gathering of friends, family, and loved ones, when all desi food lovers come together, serving some delicious samosas is the perfect choice for snacking. But what if we tell you that samosa was never an Indian dish?
Yes, if you are a samosa lover and are curious about the origin of this perfect snack of Indian cuisine, let us tell you that it traces its roots to sometime during the 10th century in the Middle East. The name had a bit of a twist from the present day, and it was known as 'Sambosa.' During that time, these savory delights used to be very small in size, which helped the travelers carry these lip-smacking delights in their saddlebags and have them during their journey. It is widely believed that during the reign of the Delhi Sultanate, Middle Eastern chefs brought the idea and concept of the deep-fried food Samosa to India. 
Samosa was never a strictly vegetarian dish, and this delightful snack has numerous variants. No wonder desi food lovers consider it one of the most delicious treats from the variety of delicacies available in Indian cuisine.

Now that you know some significant facts about samosas, let us tell you about some of the most mouthwatering samosas that Bombay Kitchen offers.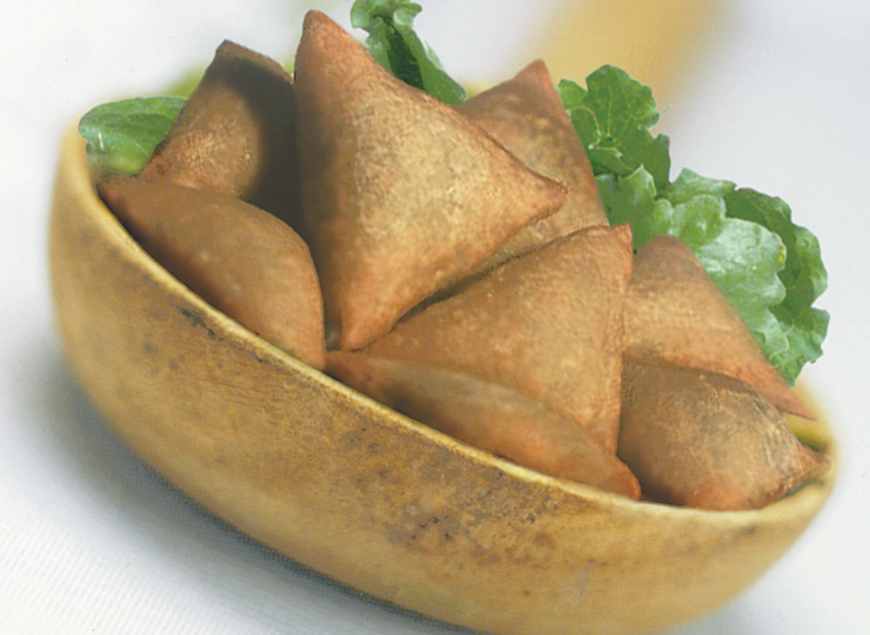 Bombay Kitchen's Potato and Peas Samosa is the perfect snack if you are a vegetarian and wish to enjoy some amazing, delicious samosa. The mouthwatering fillings of seasoned peas and mashed potato make this delicacy one of the most delicious treats for a vegetarian desi food lover. You can easily get it from a grocery store near you and enjoy it to your heart's content.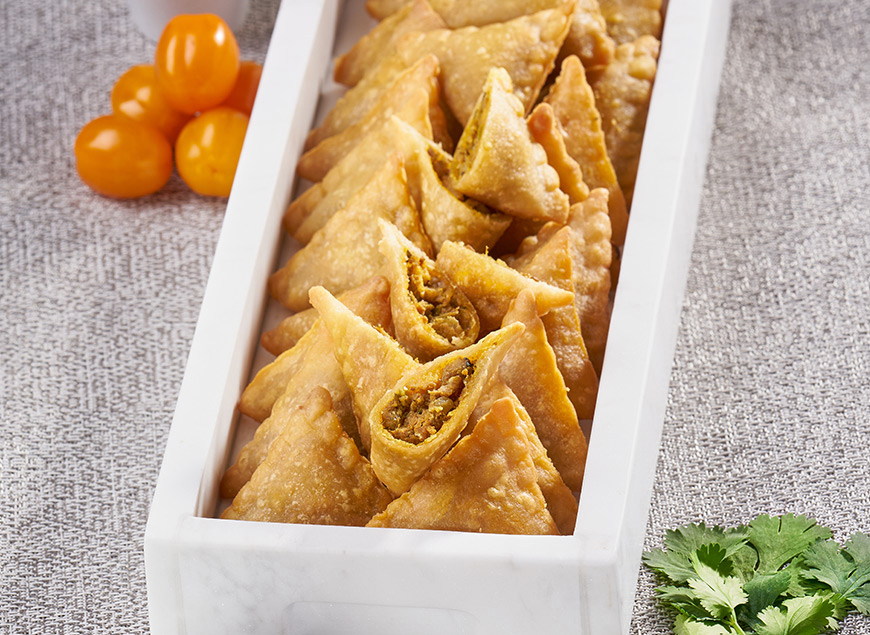 If you think you love to explore different dishes, Bombay Kitchen's Chicken Samosa is a must-try. This dish will surely make you drool right from the first bite. The crunchy exteriors of the samosa lead to delectable, minced chicken fillings that will instantly make you go wow. The first bit of this lip-smacking snack is enough for you to realize that you will keep asking for more.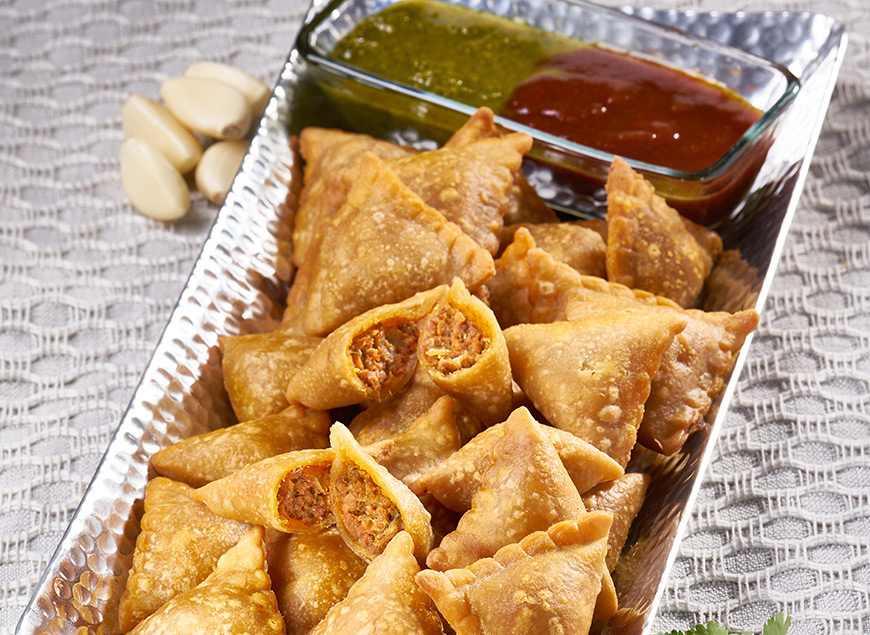 Out of the several other variants of Samosa that Bombay Kitchen offers, Lamb Samosa is one of the best! The crispy, crunchy outsides of the samosa lead you to the delectably mouthwatering filling of tender Lamb meat, which tastes delicious due to the aromatic spices it is marinated with. Desi food lovers seeking some non-vegetarian delight in the form of samosa will lose themselves in a world of heavenly flavors with this delicious preparation. You can rest assured when you serve it to your guests as they will enjoy it with utmost happiness.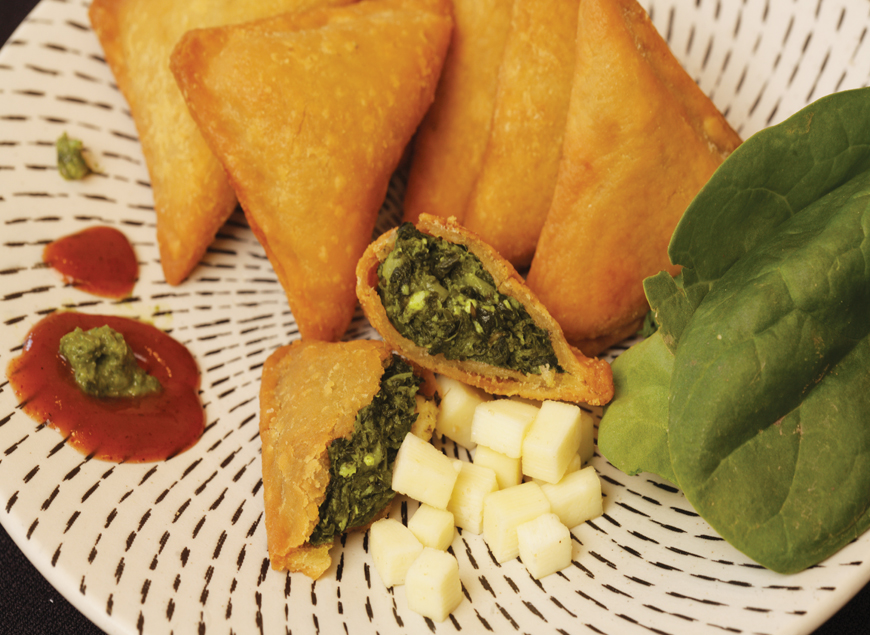 Adding cheese to any dish is enough to make people start liking it instantly. Keeping that in mind, we also offer you the very delicious Spinach and Cheese Samosa from our range of products. The crust of the samosa remains similar as always, but the fillings are what make you happy in this dish. These samosas are generously filled with spinach and sauteed with cheese and flavorful desi spices. It is a dish you enjoy because of its authentic taste and flavors. 
The mouthwatering samosas mentioned above will lighten up your evening get-togethers and parties. You can easily get these in ready-to-serve versions from grocery stores or Bombay Kitchen outlets near you. In case you cannot go out to get these delicacies, place your orders, and the nationwide delivery services of Bombay Kitchen will make sure to reach your products to your doorstep. We are available on Uber Eats, DoorDash, and GrubHub. So, order these delicious samosas today!