The auspicious festival of Diwali is approaching, and everyone is getting ready to indulge in the revelry. But amidst all the fun and frolic, delicious food takes center stage in Diwali celebrations. So, in this blog, we bring you some authentic Indian dishes to try from our product range during this beautiful festival.
The vibrant and luminous festival of Diwali is widely known as the Festival of Lights. It is an auspicious Hindu celebration that Indians celebrate with high spirits and enthusiasm all across the world. The traditional Diwali celebration signifies the victory of light over darkness and the triumph of good over evil. During this festival, people deck up in colorful clothes, gather with friends, family, and loved ones, and revel in the festive spirit by decorating their houses, lighting fireworks, and enjoying some mouthwatering Indian dishes. 
We know how essential it is for good food to be present during festivals, and Diwali is no exception. During this festival, celebrations and gatherings are much elevated when authentic Indian cuisine delicacies are served to the guests. These mouthwatering, flavorful Indian dishes add a feeling of togetherness and joy during Diwali because it is the happiest thing to relish pure desi flavors together with your near and dear ones.
Scroll down and continue reading this blog, where we bring you some of Bombay Kitchen's delicious, ready-to-eat Indian dishes you can serve at your Diwali special feasts and get-togethers.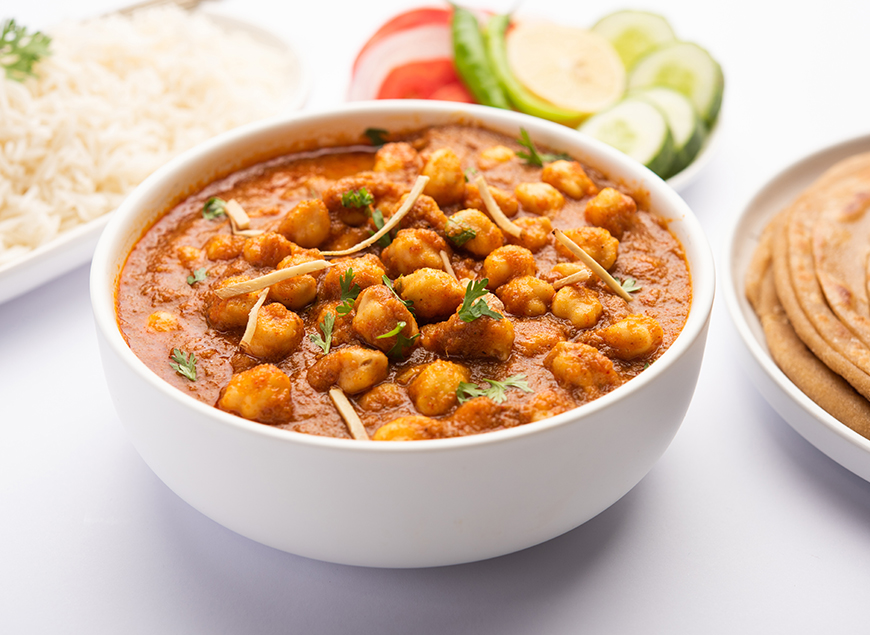 One of the most popular Indian dishes that enthralls our taste buds, Chole is a highly flavorful delicacy, also known as Chana Masala. When you serve this mouthwatering delight to your guests, they leave your party with a smile of satisfaction due to the irresistible flavors of this delicacy. You can serve it with Naans or Puris that go perfectly well with its robust flavors.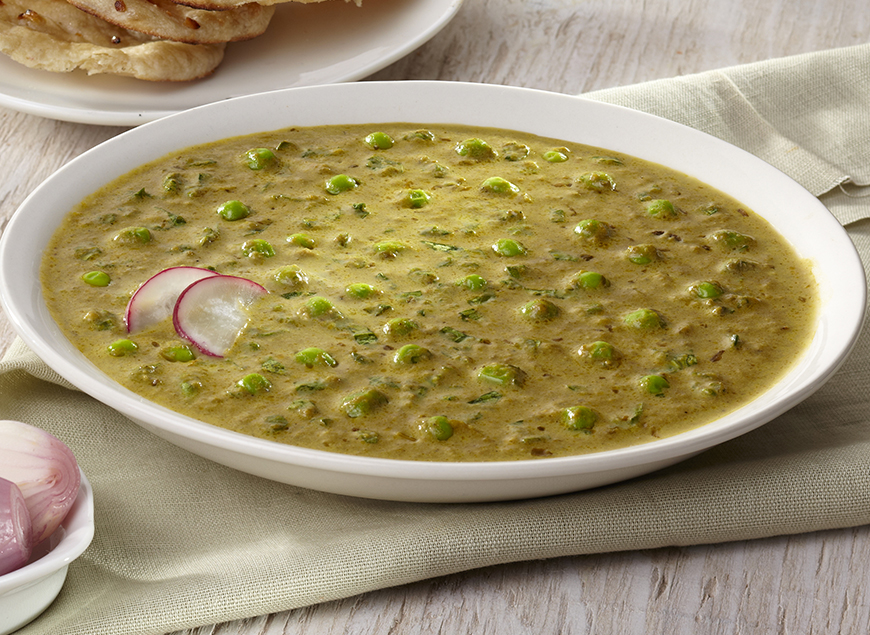 If you are looking for some rich, creamy, and flavorful Indian dishes to serve your guests on Diwali, Methi Malai Mattar is the delight where your search ends. This delicacy comprises the sweet flavors of fresh green peas combined with fenugreek's bitterness and is served in a creamy gravy with a rich texture. You can serve this lip-smacking delight with some Kulchas or Parathas, and your loved ones will instantly fall for this dish.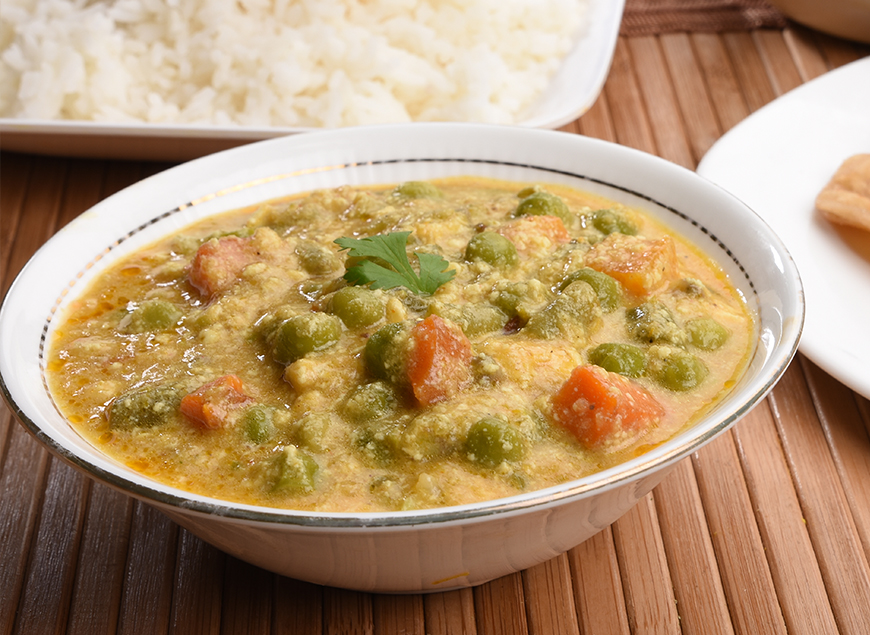 One of Indian cuisine's most traditional vegetarian dishes, which finds its duly respectful place in the menu of any and every Indian celebration, Vegetable Korma never fails to win the hearts of those who wish to enjoy wholesome and fulfilling Indian dishes. This delicacy is prepared with fresh veggies and cooked well in a luscious, rich, creamy, and mildly spiced gravy, and you can serve it to your guests with Naans, Pulao, Plain Rice, or Chapatis and this dish pairs well with all.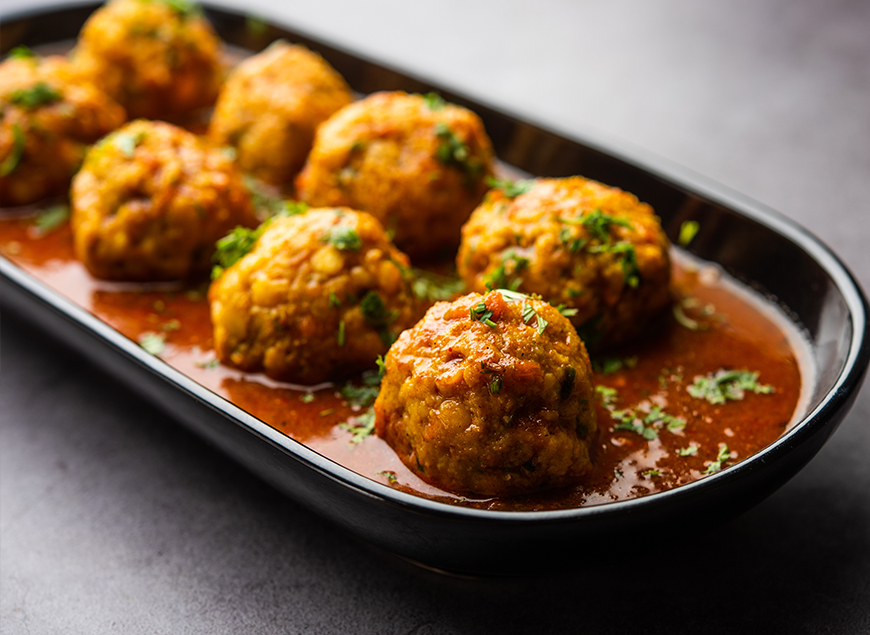 If there is one dish that reigns supreme when served at a Diwali feast, it is none other than the much-loved Kofta Curry. It is one of the most traditional dishes that Indians love to relish during festivities and always brings a smile to your guests' faces when served hot with Chapatis or Parathas. This delectable curry is a hit at every Diwali feast, so make sure to serve it to your loved ones this year.
If you are already excited about serving your guests the above-mentioned delicious vegetarian Indian dishes this Diwali, then quickly get them. We offer you these mouthwatering delights in a ready-to-serve version, so the good news is that you don't even have to cook them. All you need to do is visit a grocery store or Bombay Kitchen outlet near you and shop for these dishes. The next step is to heat them, and they will be ready to serve!