Samosa has been a significant part of Indian culinary traditions for ages, and it is a must-include dish on the menu of almost every occasion during the festive season. Bombay Kitchen brings you some traditional, ready-to-eat vegetarian Samosas with several exciting twists of flavors. Read this blog to know about them, choose your favorites, and then treat them to your guests during the celebrations!
The festive season marks the beginning of limitless revelry, and food lovers rejoice during this time because, besides all the celebrations, delicious desi food takes center stage during festivities. Indian cuisine, as we know, offers us a wide variety of delectable delicacies that instantly get our taste buds tantalized. Out of numerous such mouthwatering dishes, Samosa is one of those popular snacks widely loved by food enthusiasts and the majority of Indians worldwide. 
Tracing back to its inception, Samosa is primarily famous as a desi street food, and it has been traditionally significant to the Indian culinary heritage for decades. But there is history behind its arrival in India, and if you are curious, you should read this blog on our website, Samosa: Favorite snack of all the Desi food lovers.
Even though Samosas fall under the category of deep-fried food, their lip-smacking fillings and crunchy bites make it impossible for diet-strict people to resist these spicy, flavorful, and delicious treats. It is a popular appetizer that Indians love to enjoy over tea or coffee, during the rain-washed monsoons, or just like that on a random winter evening with friends. 
A plate of these delicious Samosas never fails to spice up the mood and elevate the vibes. Therefore, it makes them the perfect snacks to indulge in during the festive season. Moreover, the taste and flavors of Samosas are sure to make us slip into nostalgia, and that is why, during a festive gathering of friends, these are the best appetizers to munch on while chitchatting. 
So now that you know how these mouthwatering Samosas can brighten up your festive celebrations, you must be wondering about the hassle of cooking them. Don't worry! We have got you covered! We offer some of the finest, most authentic Samosas prepared with fine-quality ingredients in ready-to-eat versions. So you can enjoy the celebrations and these delights without getting tired of cooking them!
In this blog, we bring Bombay Kitchen's mouthwatering, ready-to-eat vegetarian Samosas that you should serve your guests during the festive season. Scroll down to know about them!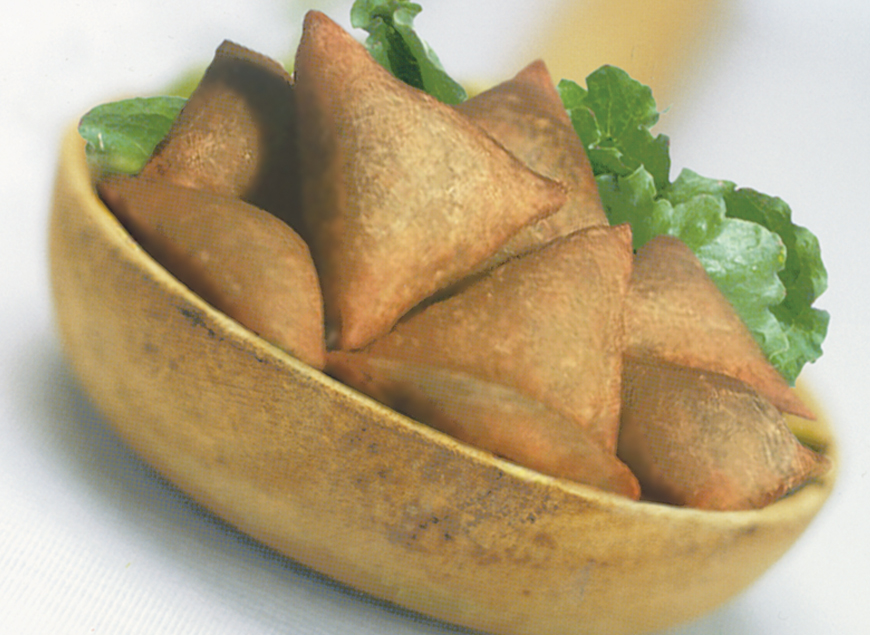 The classic Samosa that we all love, Potato and Peas Samosa, comes with wholesome fillings of mashed potatoes, fresh green peas, and traditional aromatic spices. It is the most common variant of desi Samosas, yet it never fails to take center stage whenever you serve it to your friends at a festive feast.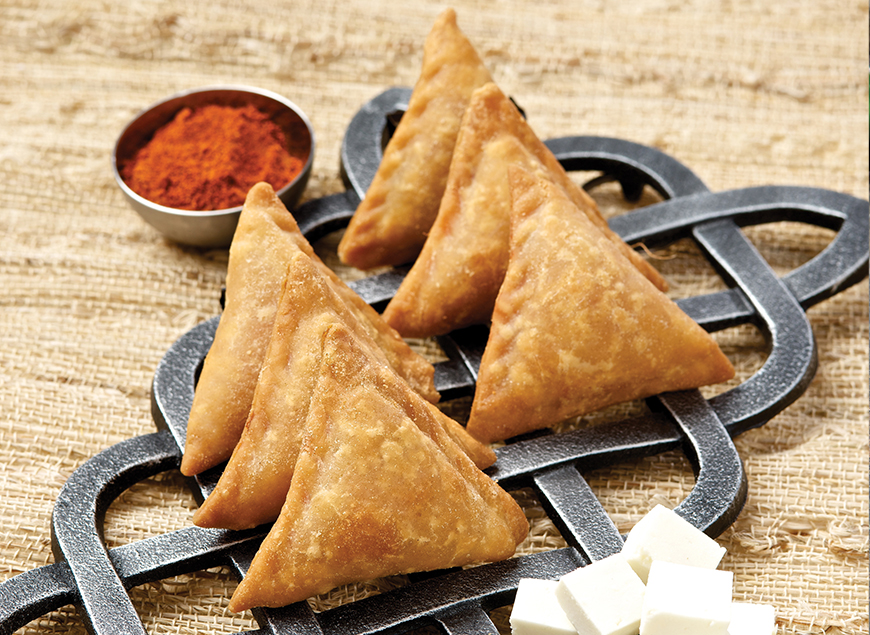 Get ready to experience an unexpected culinary surprise as you bite into the fillings of the traditional, flavorful vegetarian delicacy Paneer Tikka in Bombay Kitchen's unique Paneer Tikka Samosa. Moreover, as mentioned earlier, this Samosa is also available in ready-to-eat versions, so without even a pinch of hassle, you can enjoy the delectable flavors of Paneer Tikka and the traditional crunch and taste of Samosas. This is undoubtedly one of the most popular appetizers, and once you serve it to your guests, they will have a tough time resisting asking for more.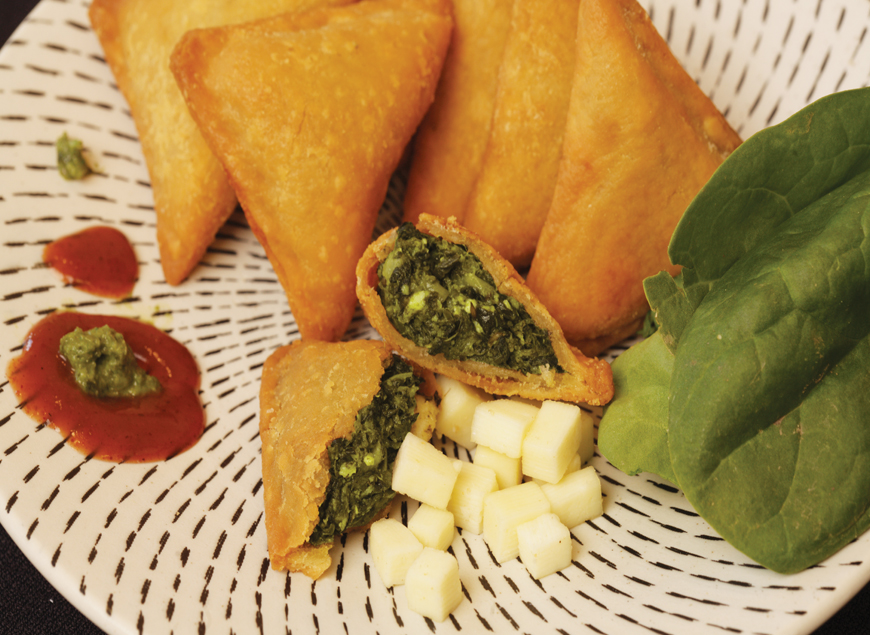 The love for Spinach is unparalleled for the ones who are keen explorers of Indian cuisine. Adding Spinach to any dish increases our excitement because of the unique flavors it adds to the dishes. So, keeping that in mind, Bombay Kitchen brings you the very delicious Spinach and Cheese Samosa from our range of ready-to-eat Samosas. Every bite of this flavorful Samosa will surely enthrall you as you experience the lip-smacking fillings of Spinach, cheese, aromatic herbs, and spices. Serve it to your loved ones during a festive get-together and watch their happy faces as they bite into this delicious snack. 
The above-mentioned mouthwatering Samosas are the most authentic and tasty Indian Samosas you can offer your guests during festive gatherings and get-togethers. We bring you these delicious delights in ready-to-eat versions, so all you need to do is visit a nearby Bombay Kitchen outlet or grocery store and stock up on your favorites. Buy them, heat them, and they will be ready for serving and relishing with your friends, family, and dear ones within minutes!